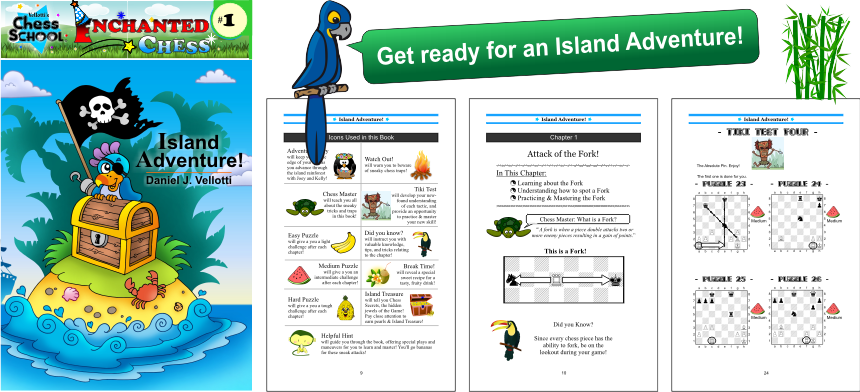 Island Adventure! by Daniel Vellotti
$14.95 - Pick up your copy today!
Grab a compass & pack your bags as you set sail for fun in Enchanted Chess Book 1!
Students will learn clever tricks, traps and sneak attacks including:
-Forks
-Pins
-Skewers
-Sacrifices
-Decoys
-Traps
-& Checkmates

Tiki Tests at the end of each chapter will quiz your child's newly found chess skills, which gradually
becomes more difficult throughout the book.

Students will master memorable techniques like:
-The Piranha Punch
-The Coconut Clobber
-The Mango Madness
-and many more!

Full color icons will aid the reader their quest to chess mastery:
-"Watch Out!" will warn you to beware of sneaky chess traps
-"Did you know?" will instruct you with valuable knowledge, tips, and tricks relating to the chapter
-"Chess Master" will teach you all about the key tricks and traps in this book
-"Island Treasure" will tell you chess secrets - the hidden jewels of the game
-"Helpful Hints" will guide you through the book, offering special plays and maneuvers for you to learn and master

About Vellotti's Chess School
Founded by Daniel J. Vellotti, the Vellotti's Chess School® coaching company has trained thousands of boys & girls since 2004.
As a published author and nationally renowned children's chess trainer of fifteen years, Coach Vellotti has developed an innovative and original "Success in Chess" Training System® that is successful for all ages of students from ages pre-K through teens.
This same system has been used to train his own son, International Chess Master Luke Vellotti, as well as many other chess champions!
The "Enchanted Chess" Series offers a very fun and original kid-friendly curriculum for children of all ages that is designed to bring the magic of chess alive for students from beginner through advanced levels.
$14.95
©2013 Vellotti's Chess School - All Rights Reserved.